View Spotlight Item
Were you prepared for the different financial needs as a civilian?
2018-01-26
The USC Center for Innovation and Research on Veterans & Military Families is hosting the 2018 Military Transition Research Summit: Financial Readiness for Transition on Friday, Feb. 9, 2018. A series of panel discussions will feature personal transition experience from veterans and expert perspectives on the financial challenges facing service members and veterans. Attendees will also learn about innovations in financial wellness. Featured panelists from Prudential, USO, and the U.S. departments of Defense, Veterans Affairs and Labor, among others.

From our experts:

"Financial readiness along with one's military identity possibly represent the two most important elements of a military transition for the service member."

-- Carl Castro, associate professor and director, CIR

"Financial preparation is essential to finding success after separation from the military. From putting down a deposit on an apartment or a home loan to covering bills while finding a job, transition can be a financially stressful period. Through financial preparedness and understanding the expenses associated with transition from the military, our veterans can alleviate a significant source of stress."

-- Sara Kintzle, research associate professor
Source: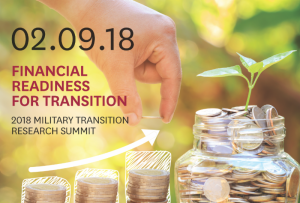 Military transition research summit on financial readiness | events | usc suzanne dworak-peck school of social work
The usc center for innovation and research on veterans & military families is hosting the 2018 military transition research summit: financial readiness for transition on friday, feb. 9, 2018. a serie...
dworakpeck.usc.edu