Not just another profile...an Expert profile.
ExpertFile is used by a wide variety of audiences looking for experts for a broad range of needs. Whether you're seeking a media source, a speaker for your event, reaching out for a professional/business opportunity or even as an expert witness, ExpertFile has thousands of experts to talk to. Best yet, our combination of engaging profiles and actively monitored inquiries means you can get the response you need to your time-sensitive requests.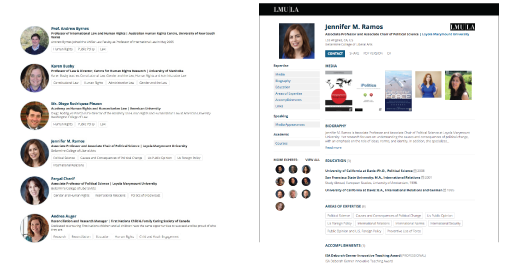 Why use ExpertFile?
It's FREE to search and connect.
Our powerful search engine lets you quickly find and connect with the experts on the topics you need.
We're a curated Expert network....we're not for everyone.
Experts are included based upon recommendations of their organization or through our individual application process. We actively market to experts in areas important to our audiences.
Our profile design makes it quick and easy to evaluate expertise.
Profile layouts are designed to help you quickly scan biographical and expert related content like media and event appearances, publications, research areas... or take a deep dive and review media assets like video, slides, books and more.
Our experts are responsive.
Our inquiry process means your inquiries are not only received, but responded to in a timely manner. Most organization experts are also monitored by third-party individuals whose job is to ensure time- sensitive media and other inquiries are responded to quickly.
Are you a journalist?
Join leading media organizations who use ExpertFile to find expert sources.