Your

association

is powered by experts.
Harness the wealth of expertise within your association to drive action and ultimately, advance your cause.
Leverage your expertise and advance your goals.
Whether you're connecting industry professionals or looking to garner financial, political, public or corporate support for your organization, you need members, volunteers and donors to help you achieve your association's unique objectives. These audiences can be difficult to engage but with the power of expertise marketing, you can show audiences exactly why they should get involved with your organization.
ExpertFile specializes in helping associations, foundations and non-profits highlight their expertise and attract vital audiences to their organizations. Combining industry-leading technologies with our unique service offering, our comprehensive expertise marketing programs leverage existing assets to make your expertise more visible to key audiences. This proven approach not only helps associations attract people, but it also introduces new avenues for funding and community support.
Tell Me More!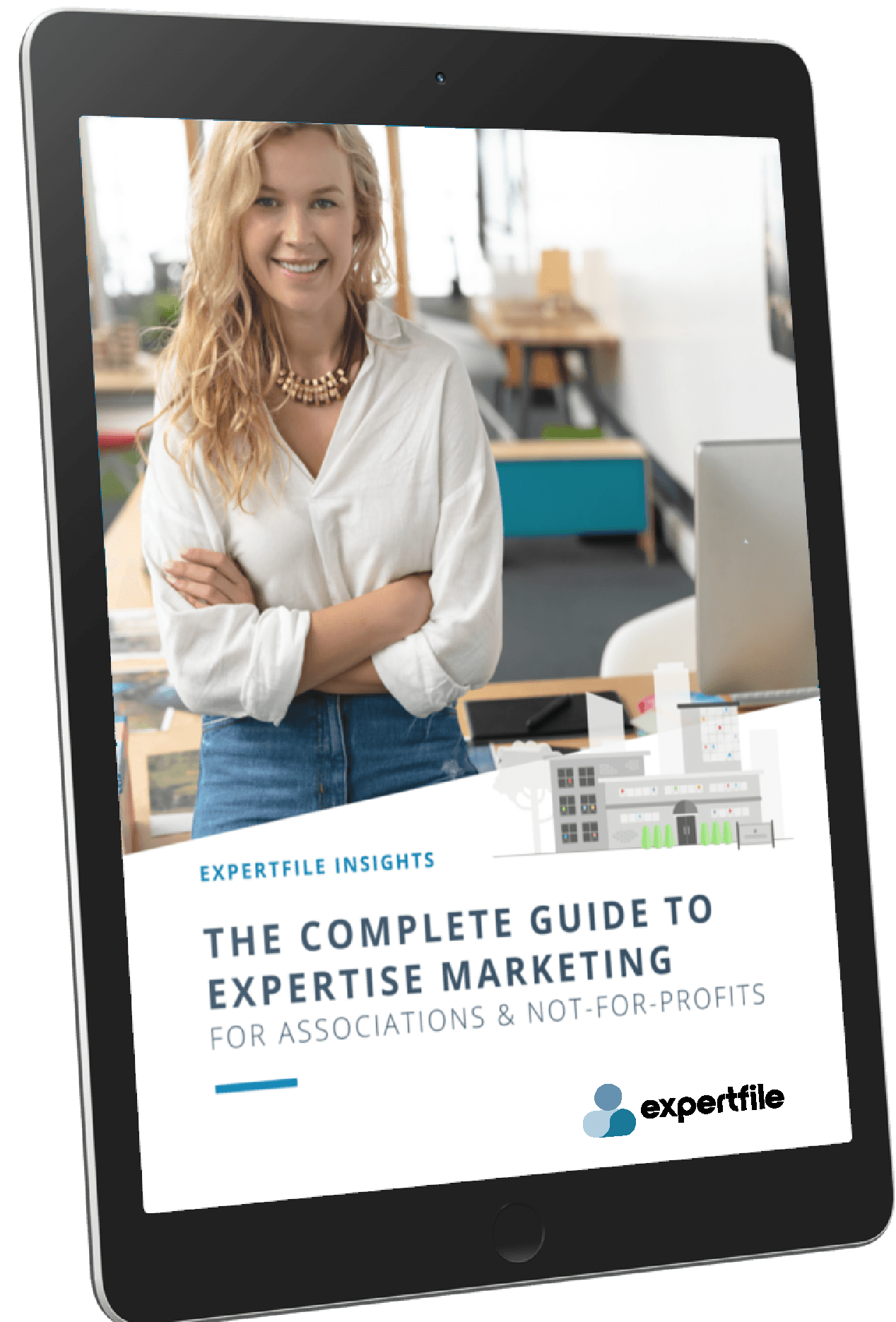 The Complete Guide to Expertise Marketing for Associations, Not-for-Profits and Federations.
Discover strategies, benefits and best practices for setting up your own Expertise Marketing program.
Get Your Copy
The leading resource for expertise marketing.
With the perfect balance of functionality and flexibility, the ExpertFile Platform empowers even the largest, most complex organizations quickly get started with expertise marketing. Here are some key features that help associations create, organize, promote and integrate expert content.
Branded Experiences

Put your association front and centre by creating a wide range of branded assets including homepage features, sharable Spotlight posts, expert profiles, newsrooms and "About Us" pages.

Elevated Content

The ExpertFile Platform helps you take content to the next level with embedded links and sharable media like podcasts, videos, publications and blogs.

Increased Media Exposure

In addition to optimizing your content for search engines, we'll share your expert profiles with over 15,000 newsrooms around the world through our partnership with The Associated Press.

Third-Party Integration

The ExpertFile Platform doesn't require you to replace your current infrastructure. Instead, it leverages your existing assets by seamlessly integrating with third-party technologies such as your CRM or CMS.

Easy to Implement

Implementing expertise marketing is quick and cost-effective with ExpertFile's mix of technologies, ready-made templates, intuitive interface and powerful administration capabilities.
Achieve your objectives with expert support.
Based on the unique needs of your association, ExpertFile offers a range of strategic, creative and technical services to help you deploy and maintain a successful expertise marketing program. You can rest assured that throughout our engagement, you'll have access to hands-on support when you need it most.
Learn more about our Professional Services included with your subscription
We have the experience to support your cause.
ExpertFile has deep experience supporting a broad range of associations, foundations and non-profits implement expertise marketing programs. These organizations rely on our expertise and we're thrilled that we've been able to achieve such outstanding results.
"ExpertFile really helps our team present our medical experts in a more organized and engaging manner to reporters and other audiences. We're seeing significant gains in both our website traffic and an increased number of inquiries from international media."
Deploy within 30 Days*
Get in touch with our team and discover how ExpertFile can drive measurable results for your business within the same quarter.