The world's first

expertise marketing

platform.
Create engaging online experiences that showcase your organization's talented people.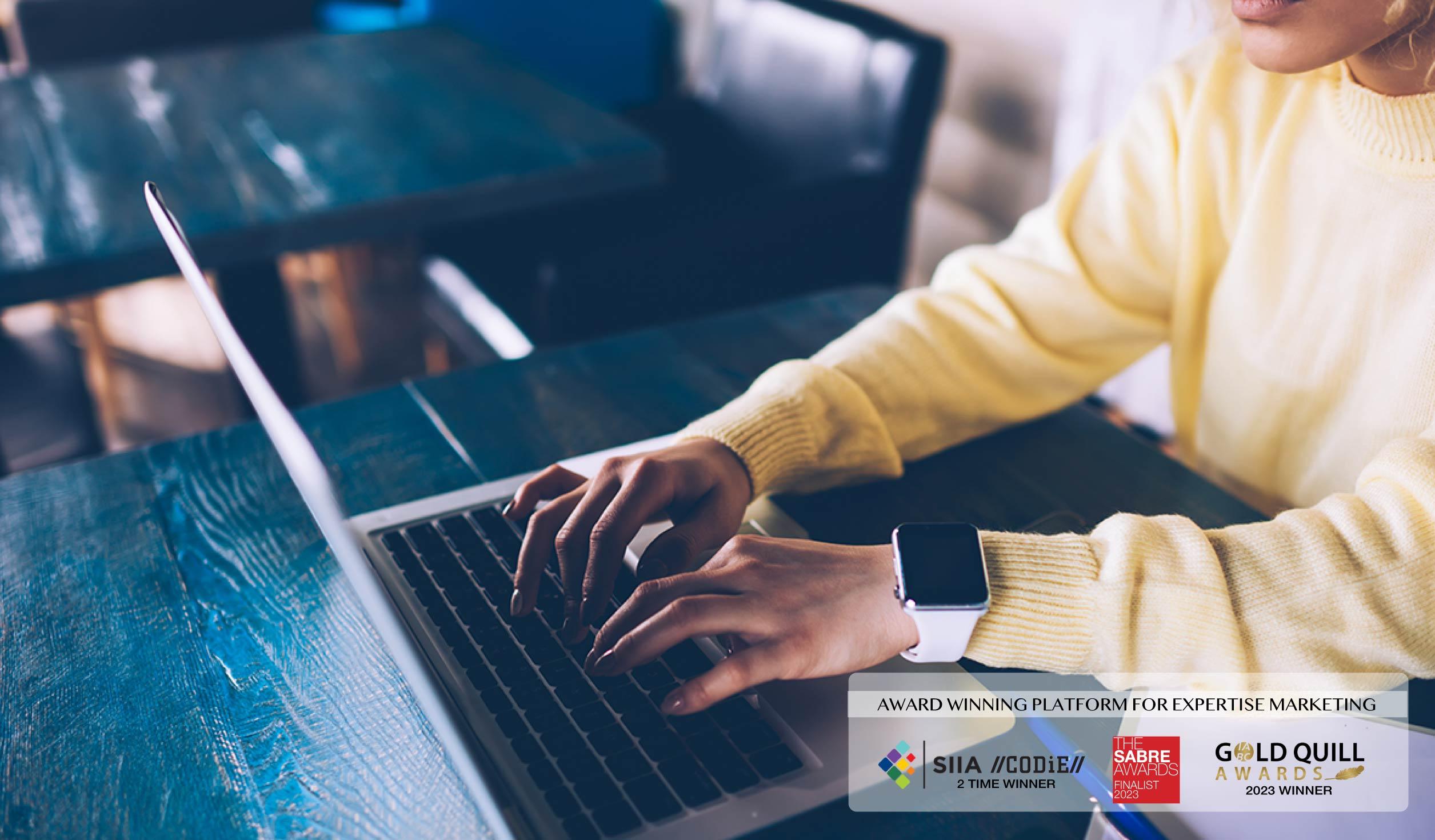 Create an experience that's all yours.
When audiences come looking for your expertise, your brand should be the star of the show. The ExpertFile Platform gives you the freedom you need to create custom expertise marketing assets and deliver a branded experience to your audiences.
Expert Profiles & Directories

Create and publish a wide range of branded assets including enhanced expert profiles, "About Us" pages, homepage features, newsrooms and directories with advanced search.

Interactive Content

In just a few clicks, you can bring all of your expert content to life and deliver a richer user experience with video, slides and publications embedded directly from YouTube™, SlideShare™, Amazon™ Books and more.

Spotlight Posts

Design dynamic content for press releases, announcements and emerging news – complete with video integration and social sharing. Increase productivity with AI tools. Learn more about Spotlights.

Expert Answers

Deliver insights through expert curated Q&A. Build relevance with your audience by answering those questions most important to your industry. Learn more about Expert Answers.
Organize your people and their content.
Many organizations have expert content but it's either scattered across the Internet or worse, buried in local files. ExpertFile makes managing expertise marketing easy.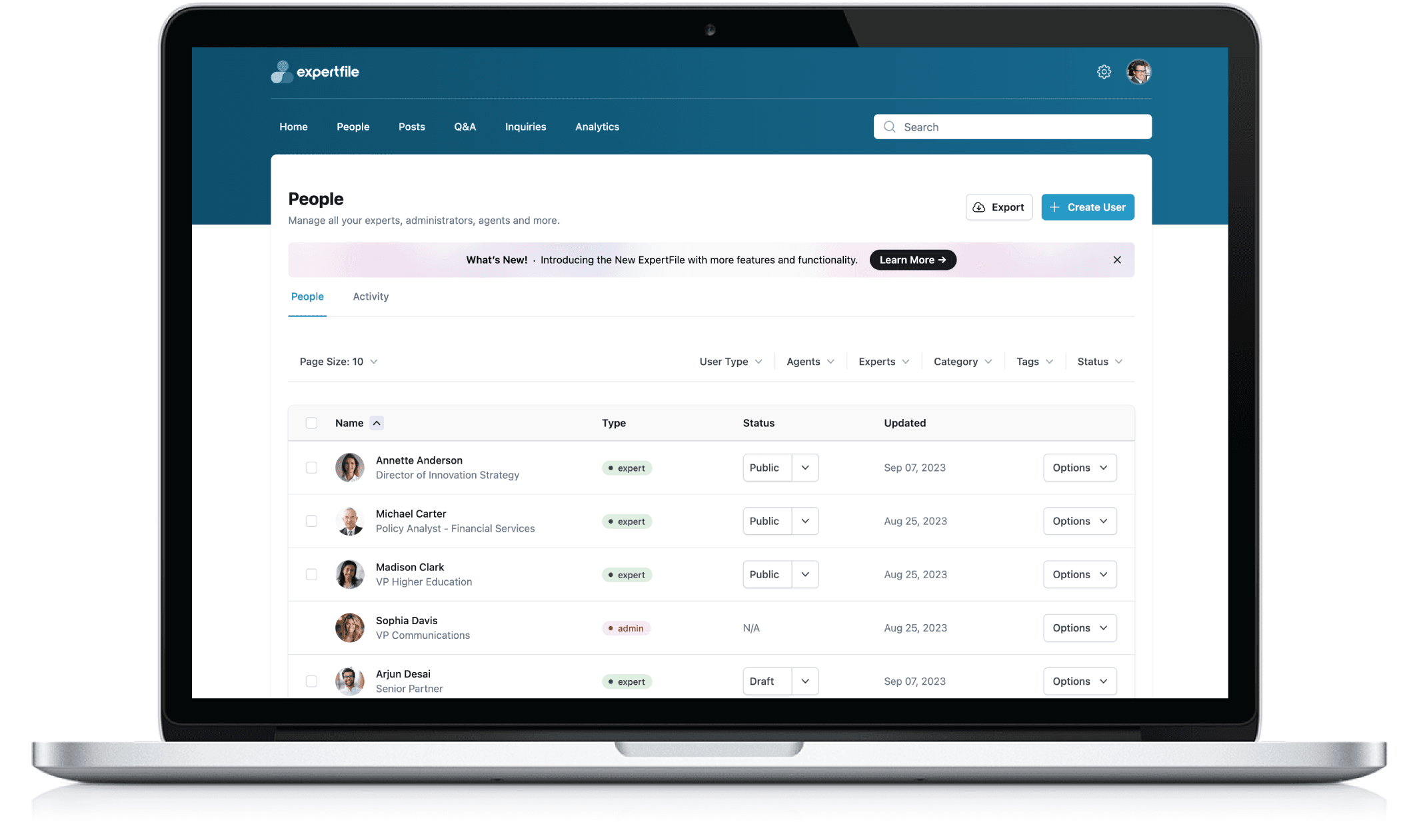 CODiE Award winner ExpertFile was named the "Best Content Management Platform" by the Software and Industry Information Association (SIIA).
Centralized Platform

Unify your assets, manage your content and collaborate with your colleagues –all in one central location.

Workflow Management

Timely, relevant content is essential to your success. We've built in a set of robust workflow tools to help you stay on top of things. From assigning individuals to tasks to receiving alerts for time-sensitive requests, our intuitive interface ensures you never miss an opportunity to shine.

Dashboards & Reports

Get the full power of expertise marketing with unique analytics designed to help you manage your experts and their content. Measure SEO impact, content contribution, web traffic and content performance. Plus our leaderboard information helps you quickly pinpoint opportunities to drive more engagement with your experts to create content and engage valuable audiences. In addition monthly reports delivered right to your inbox each month keep you on track.
Integrate expertise into your marketing stack.
We've made it simple to customize our platform. From no-code visual design tools to easy integration options with plugins we guide you through a fast onboarding process designed to leverage your existing technology platforms.
The ExpertFile Design Lab

In just a few clicks, the ExpertFile Design Lab shows you how to create custom integrations using embeds – no heavy lifting or IT support required, regardless of the CMS you use. Test Drive Our Design Lab Content Builder.

Ready to Use WordPress Plugin

Our WordPress plugin provides users the easiest, SEO-friendly way to quickly add your experts and their valuable content to any website. Customizable, modern design ensures a beautiful addition to any WP website. View more about the WP plugin.

Full control with our API

If you're looking for complete customization, the ExpertFile API not only gives you control over how and where you display your expert content, but also allows you to easily connect with existing tools in your marketing stack such as your CRM or CMS. View more on our API.

Advanced Functionality

On top of seamless integration, the ExpertFile platform also comes stocked with features like password protection for internal content, single sign-on (SSO), and integrated media snippets
Stay optimized for search.
All expert content created within the ExpertFile platform is built with Search Engine Optimization (SEO) in mind.
E-E-A-T Compliant (Experience,Expertise, Authority & Trust)

Googles emphasis on E-E-A-T shows just how vital expertise marketing is to knowledge-based organizations. A well-designed expertise marketing program will naturally improve expert page rank on Google and generate better engagement with web visitors and newsrooms.

Enhanced Meta & Schema Tagging

ExpertFile ensures all your content contains advanced Meta and Schema tags (schema.org) to ensure Google knows the type and importance of all the data you publish.