ExpertFile Releases Improved Search Experience for Experts
Toronto, Sept 15, 2016
Exponential growth in expert content on its platform required new, world-class search technology.
ExpertFile today announced that it has implemented a new search technology to power all its web properties. This technology will ensure the most relevant experts on the ExpertFile platform are more discoverable by broadcast, print and digital media as well as other key audiences. This new search technology is based on the Lucene framework, which offers some of the most scalable, adaptable search algorithms available on the market today. The technology powers many large, data intensive sites such as FaceBook™, Twitter™ and LinkedIn™
"With our database of experts growing exponentially we needed a new approach to our search experience that would work for years to come," said Robert Carter, Co-Founder and VP of Product at ExpertFile. "The Lucene search engine is a the most powerful and flexible search framework that makes it far easier for us to add indexing and search capability to a broad range of applications we are deploying to our customers."
Based upon research with customers and its current and future data structure, the ExpertFile product team implemented the new search methodology across all of the company's search properties. Users of the ExpertFile platform now benefit from advanced features such as:
Faster and more exhaustive indexing of expert content shows higher quality results
Guided discovery with "type ahead" & "saved searches" provides suggestions to users
Faceted search functions allow users to refine their search to make it more relevant
With our new search capabilities, we've provided the next level of expert discovery that is critical for audiences such as media and event organizers who are pressed for time and want the best search experience possible" said Peter Evans, Co-Founder & CEO of ExpertFile.
ExpertFile's search experience is delivered not only through its Expert Marketplace at expertfile.com but also through hundreds of integrations to websites of leading universities, corporations, healthcare institutions and industry associations.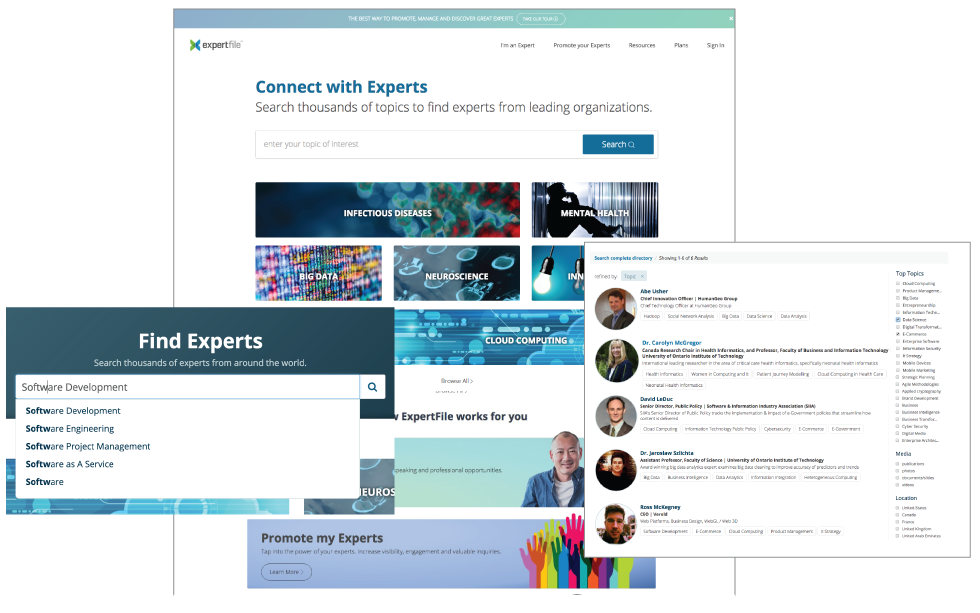 To view our new Expert discovery experience click here
About ExpertFile
ExpertFile is a cloud-based SaaS platform and global expert network that allows organizations to better 
manage and promote their expert content to drive market visibility, website engagement & customer inquiries. Our clients include market leaders such as ADP, University of North Carolina (Chapel Hill), University Health Network (UHN), University of California (Hastings College of the Law), Canadian Diabetes Association and Wake Forest University.
Media Contact
Deanne Taenzer dtaenzer@expertfile.com 1-800-693-9126